LION Zact Toothpaste Nicotine Stained Removal 150g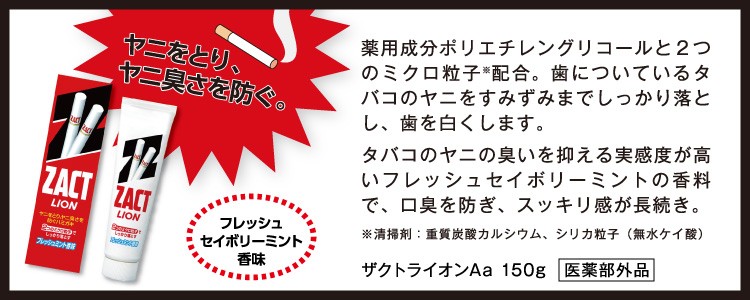 ● take the tar, toothpaste prevent the tar smell of
high ● tar-up effect, is a toothpaste prevent the tar smell
● toothpaste for phosphoric acid hydrogen Karishiumu, aluminum oxide, etc. However, it cleans the teeth and whitens the teeth.
● The refreshing flavor and fresh savory mint prevent bad breath and keep the mouth clean for a long time.
● Coffee, tea, etc. on the teeth . Removes colored stains and creates beautiful white teeth
● Refreshing fresh mint flavor

[ Brand name] Zactlion Aa

[Ingredients]
Polishing agent: Carisium hydrogen phosphate for toothpaste, aluminum oxide
Wetting agent: Sorbitol solution, PG
foaming agent: Na lauryl sulfate
Flavoring agent: Fragrance (fresh savory mint type), Sodium saccharin
Medicinal ingredient: Polyethylene glycol
Caking agent: Sodium carboxymethyl cellulose
Preservative: Na benzoate, Paraben

[Caution]
・ Rash If any abnormalities such as these appear, discontinue use, bring the product, and consult a doctor.

customers are viewing this product
The minimum spend for an order is AUD $0 (inclusive of GST).
DELIVERY OPTIONS
Shipping only available in Australia..
Standard Delivery
Flat rate $12 will be applied for all orders with standard delivery. FREE on orders $149 or over (within 5 kg). National delivery within 3-7 business days. Delivery times via Australia Post or TNT to Western Australia, and regional and remote locations in Northern Territory, South Australia, Queensland and Tasmania may still be a little longer than usual.
Express Delivery
Flat rate $25 will be applied for all orders with express delivery. Order by 2pm AEST Monday-Friday for next business day delivery in National Metropolitan areas. Regional areas may take longer.